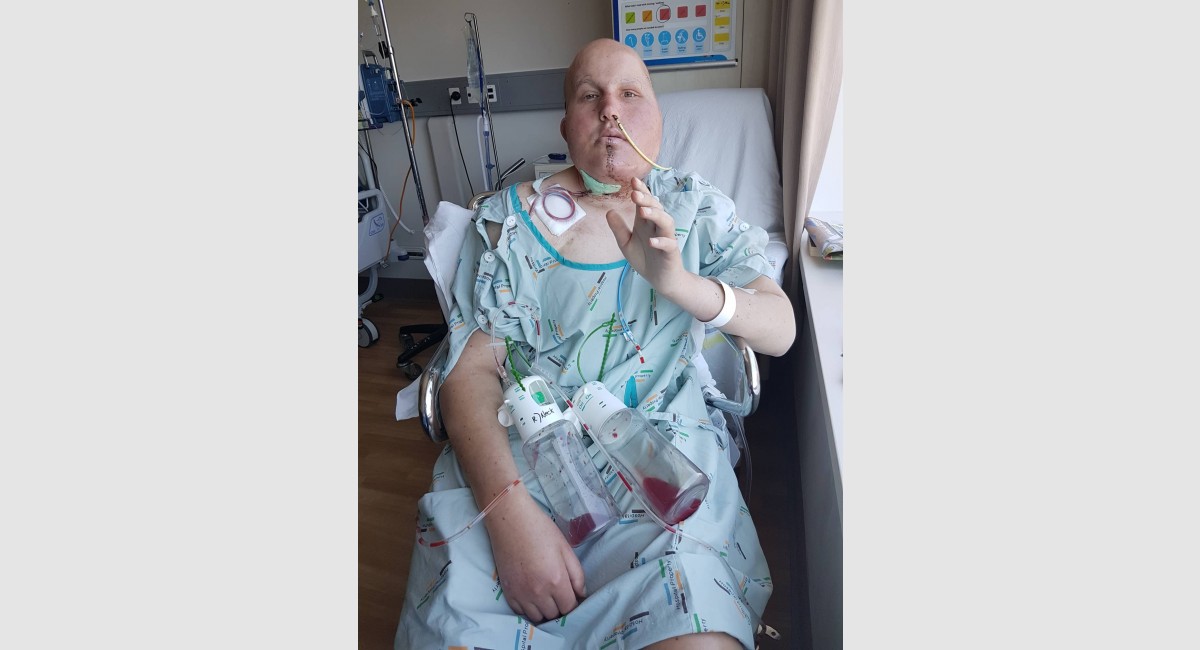 Two more days have passed and there has been a little more progress with Rory's recovery. Rory has been up out of bed. He sat in the chair by the window for short periods yesterday and today. The first time he did it he said he felt horrible. He has very little energy or strength so it is a bit of a mission to get him out of bed. He is also very sleepy so he has short bursts of activity and then needs a nap. The physiotherapist started working with him today. Rory got out of bed to stand using a high frame. He is still non weight bearing on the donor leg which is encased in a moon boot. He is finding it too difficult to move with the frame using only one foot.
We have taken a step down in pain relief from morphine to tramadol. On the morphine Rory was finding it even more difficult to stay awake and focus. The Doctors have stopped the Dexamethasone steroid and Rory is currently on a stress dose of his hydrocortisone. Hopefully he can go back to a normal dose by the end of the week. The drains in Rory's leg and neck have been removed. There is no longer weeping from the wounds. The catheter has been removed. Rory still has the two electrical wires sticking out of the left side of his neck. They are connected to a Doppler machine every two hours. One wire is in the vein and the other is in the artery where the surgery occurred. When they are connected to the machine the blood flow in the vein sounds like the sea and the artery gives off the beat of his heart. If they do not sound as they should it is an indication the reconstruction is failing. Rory's left eye is not closing fully and it waters a lot. Dr Nick said the nerve was stretched and will take some time to recover. Rory now has drops and cream for his eye to keep it moist.
Dr Stephen called in this morning back from his holiday. He is awaiting on the pathology results from the tumor before deciding on the chemotherapy regime which will follow. The tumor is bone so it needs to be dissolved which takes a little longer. We hope to know more by the end of next week. Nurse Tracey called in and Dr Kath calls in every day.
I'm feeling tired today. Taking turns makes Rory's care in the hospital manageable but the effects compound as the days pass. It is a highly stressful environment. Rory needs a high level of care. We only get a proper sleep every two days because we are up three times at night when we stay on the ward. When we are off the ward we shower, eat, do the washing and housework and get Colt outside for a walk. To break up the monotony for Colt we try and have mini-adventures. We have made lots of discoveries within a 5km radius of the hospital!
When Rory and I were reading last night he started to cry. When I asked him why he said he was upset because the story was sad. Rory hasn't cried about what he has lost or what he has had to endure he cried because something touched his heart. It was very humbling. How could we do anything but help him follow the light.
Thank you to CCF for the delivery of groceries.