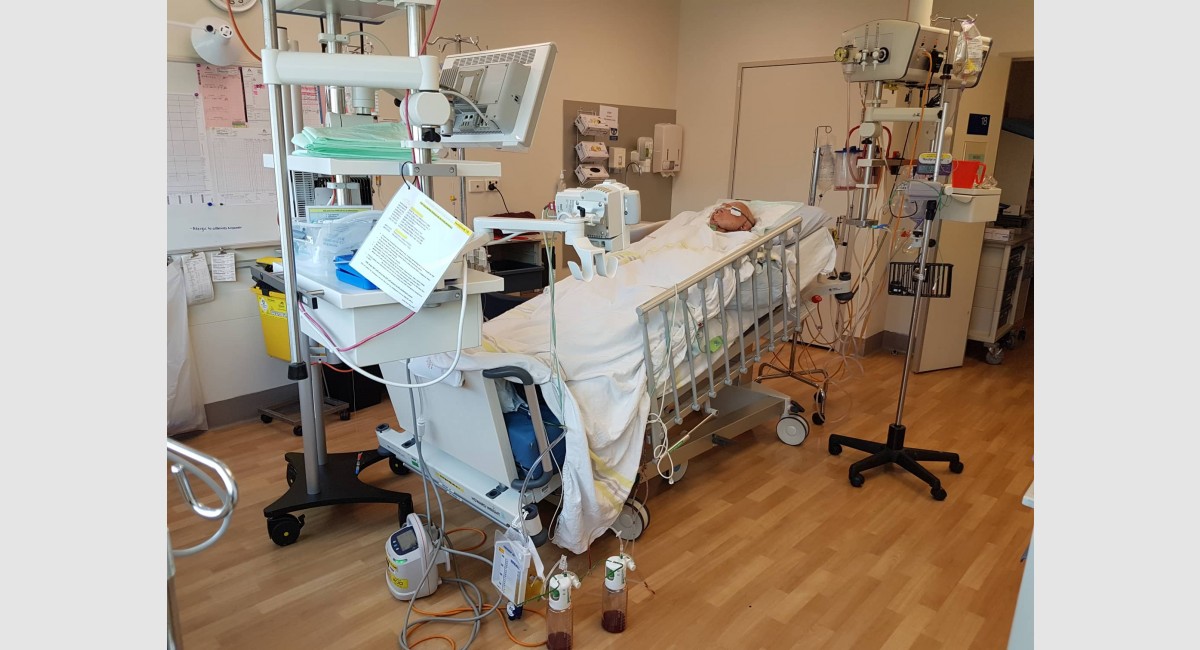 Rory remains in DCCM (intensive care). I am sitting beside his bed. He will be here until tomorrow. Yesterday afternoon the Doctors stopped the sedation and removed the breathing tube from his nose. They waited until after lunch as they spent the morning stabilising Rory's blood pressure. Rory has very slowly been coming around over the last 24 hours. It is wonderful seeing his eyes open a little more and start to focus as time passes. He is breathing on his own with humidified oxygen. He remains in DCCM because he is still sleepy and his airway is threatened. The Doctors put a camera up his nose this morning. There is swelling in his throat and he has secretions in his chest which he is trying to cough up. He is swollen in general;face, legs, arms and hands.
The wounds from the surgery are healthy. They each have a drain for excess fluid which runs to a bottle hanging under the bed. In the left side of Rory's neck are electrodes which monitor the flow of blood in the artery and vein they used to reconstruct the left side of his face. When the electrodes are connected to the monitor you can hear the blood rushing through them and a heartbeat. Rory's left leg, which was used as the donor site for reconstruction, is in a cast and moon boot. He is not to bear weight on it for a week. The physio team will help him with rehabilitation. His leg is the most painful. The nurses are giving him paracetamol and morphine. Rory is being turned in bed several times a day to change his position, make him more comfortable and move his body. He is receiving nutrition via an NG tube up his nose. He is trying to speak a little but it is difficult to understand. He mostly makes loud deep gurgling noises. He is on antibiotics. The surgeons had to cut into his mouth and remove several teeth and split his lip for reconstruction.
Dr Nick, Di Ilia and their surgical team as well as the DCCM team come in and out several times a day checking on Rory. They are very pleased with how the operation went and the small steps Rory has made so far. Dr Kath has been in the thick of it making sure things are flowing smoothly and we are coping. Nurse Tracey called in yesterday when she returned from holiday.
Sean and I are taking turns in DCCM with Rory and with Colt. Visitor numbers and the times you can visit are strictly controlled but the staff have been very good, letting one of us be with Rory at all times now he is no longer sedated. I stayed last night in a lazy boy chair. It is nothing like staying on the ward. The lights are on all night and the nurses continue with the same care. The time of day is irrelevant. All the patients are critical so need round the clock support. The DCCM Doctor rounds were done at nearly midnight and Rory had to be turned at 2.30am. Activity stepped up a notch around 5.30am and I saw the surgical team not long after 7am.