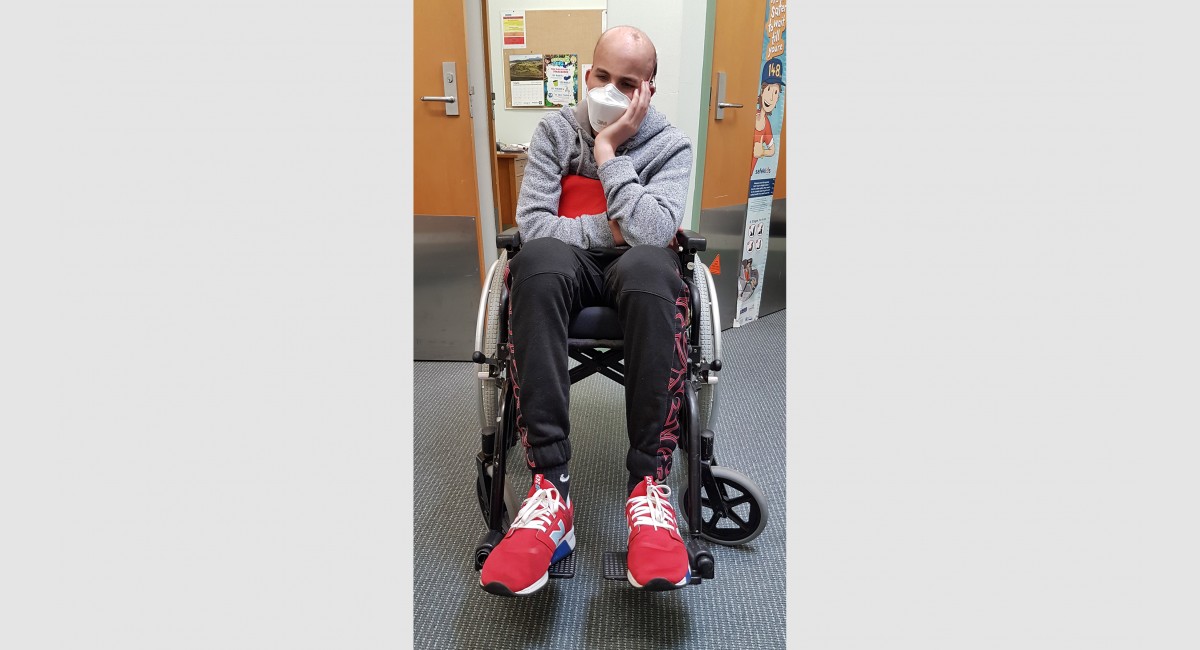 The journey Rory is taking is like going down the rabbit hole (from Alice's Adventures in Wonderland) …….… you never know what is going to develop and where you will end up.
Rory is currently in the isolation room on the Children's Ward at Taranaki Base Hospital. I tease him he must like the place because it's the second day in a row we have been here. Today it looks likely we will stay the night. He is miserable.
Our visit to the Hospital yesterday started with sourcing a wheelchair. Rory is unsteady on his feet and has no energy. He is walking a little around the house but he needs to be out in the world so we got wheels. We then visited the Children's ward to catch up with Dr Yvonne and the Outreach Nurse for child cancer. Blood tests showed Rory was neutropenic (no immune system) and his thyroxine was a little low so they have increased the daily dose. His tummy is quite sore and he still feels nauseous. I got a lesson in how to administer an IM (intra-muscular) emergency dose of hydrocortisone in case Rory needs it. At the visit we noticed Rory had a mild rash on his arms, chest, back and face.
Since we have been home Rory has slept soundly for 11 hours at night but last night he was awake every couple of hours in pain. This morning he vomited. The rash was also a lot worse. Sean brought him to the hospital. Rory was given an IM dose of hydrocortisone, medication to stop stomach spasms (he may have developed an ulcer) and is on IV fluids. We are waiting on pee and skin swab results. Blood tests showed his sodium level is low. Eating anything gives him stomach cramps.
Sean and I have swapped duty. I am sitting beside his bed with one eye on him and the other on the laptop. This morning I was lucky to get out for a walk. I have ceased running. For me running is as much heart and mind as it is physical but at the moment it feels too hard. It would be easy to be consumed by the journey and give up exercise but I need to go walkabout to stay whole. I walk to feel the wind on my face, the movement of my body and to calm my over-crowded racing mind.
Sean and I were hoping to attend the annual TRC Environment Awards together tonight. They are a showcase of the impressive projects and people working in our region to protect biodiversity and the environment. I am always inspired, proud and blown away by what is being achieved by our community. Sean will now be flying the flag for both of us.
Thank you to; Van Asch Deaf Education Centre for the lovely parcel for Rory, Bryan and Christine for the lotto ticket; Danielle for your delicious home cooking and the Photolife Studios team who sent us Rory's 2019 Inglewood High school photo pack free of charge. It is wonderful to see his smiling face.