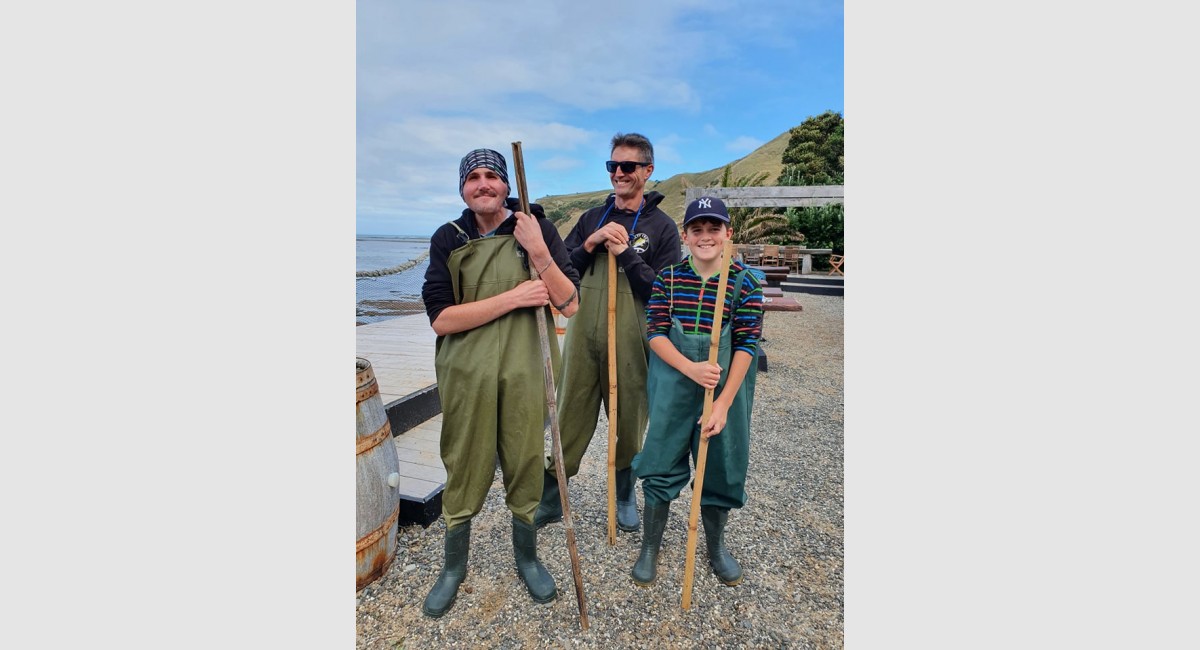 'At the going down of the sun and in the morning, we will remember them' Laurence Binyon. Even though we didn't make the Dawn service this year today we remember the sacrifice and service of Great Great Grandad Strongman, Great Grandad Gardiner, Great Uncle Harry and Great Uncle Sid. They fought in terrible wars for their family and their country. Lest we forget.
For the last eight days we have escaped our lives to breathe the air of new places and it has been fantastic. As school holidays, Easter and Anzac Day were packed tightly together it provided us with an opportunity to get away. We decided to visit Tairawhiti Gisborne as we had never been there. I don't know why we put it off for so long. It is a great place. I think the length of the drive (570km) with three boys was a deterrent. To make it easier we broke the trip into stages. We spent a couple of nights with Grannie and Grandad Gardiner in Dannevirke. Sean, Colt and I slipped away for a morning to tramp to Awatere Hut in the Ruahine Ranges. We drove north through Napier and made a stop at The National Aquarium of New Zealand. We were able to watch the reef fish feeding and were taken with the Hawksbill turtle.
We settled in for four nights and three days in Tairawhiti. They were full days! The highlights were; Tatapouri Reef Ecology tour – walking out on the reef wearing waders (Rory was towed on a blow up hotdog) to get up close with Short-tail Sting rays and Eagle rays. The boys got to feed them fish and stroke them (they feel slippery). Colt was nearly knocked over by 300kg 'Tara' the Short tail stingray as she tried to climb up his side to get more fish. There is always walking! We wandered to the end of Tolaga Bay wharf. It is the longest concrete wharf of its kind (660m) in the Southern hemisphere. It is very deep at the far end. We climbed Kaiti Hill/Titirangi to get a view of the city and its three rivers. We started the climb from the spot where Captain Cook first landed on Aotearoa/New Zealand. Each morning we walked along the beach between Waikanae and Midway Surf Lifesaving Clubs. In Gray's Bush Scenic Reserve we were in awe of the 500 year old Kahikatea and Puriri. It is a special and rare forest remnant on the Gisborne plains. There was a little adventure. Sean and Colt rode down Rere Rockslide on boogy boards. They were the only ones without wetsuits and the water was cold. It was hard and fast with dips and bumps, definitely not as smooth as dam dropping. They were both left with bruises after they came a cropper. We broke up the trip home with a night at Whakatane. We took two double kayaks onto Ohiwa harbour on a warm still afternoon and explored the mangroves. It was followed by the best curry we have ever eaten at Popsies Restaurant.
Taking Rory on holiday poses a whole new set of challenges for him and us. The activities we choose are determined by what Rory can manage. He fatigues quickly and is now mobilising incredibly slowly. His battery is drained faster when he walks with the walker as he has to control it over ground which is rarely flat or smooth. Sean or I often walk alongside him providing physical support and momentum in place of the walker. We take it in turns as it is tiring and challenging. I need to use a walking pole for stability as Rory is taller and heavier than I am. Rory needs assistance mobilising in the motel rooms and cabins. There is no room for the walker so he wall and furniture walks or holds onto one of us. There are no rails to assist in the shower or toilet. In the community accessibility is an issue. Many venues and activities do not provide adaptations for those with mobility challenges. There are steep ramps, stairs, drop offs and angled paths. We do not let this deter us and tackle as many as we can so Rory doesn't miss out, but some are unsafe or beyond the support we can provide. Space is at a premium in the car as we have to pack extra gear i.e. walker, suction rails, non-slip mats, medication, drying box and batteries for cochlear implants etc. Sean and I are always on alert for hazards; people, vehicles, terrain and food which Rory could choke on. We set alarms for his medication and monitor him closely in case he needs extra doses because he is under stress from the elevated level of activity and strange environment. Cost has also become a barrier. Rory is now an adult. He cannot work so is on a benefit. He has to pay the adult price for activities. Few places have discounted rates for people with disabilities and their Support Carers. This makes adventuring expensive.
In spite of all this we are determined to continue to take Rory away on holidays and adventures with us. We will continue to support him to do as much as he can with the impairments he has. Each year his ability to participate in the world declines a little more which makes seizing the day all the more important. We have had a great time together over the last week. We have created memories which will last all of us a lifetime.