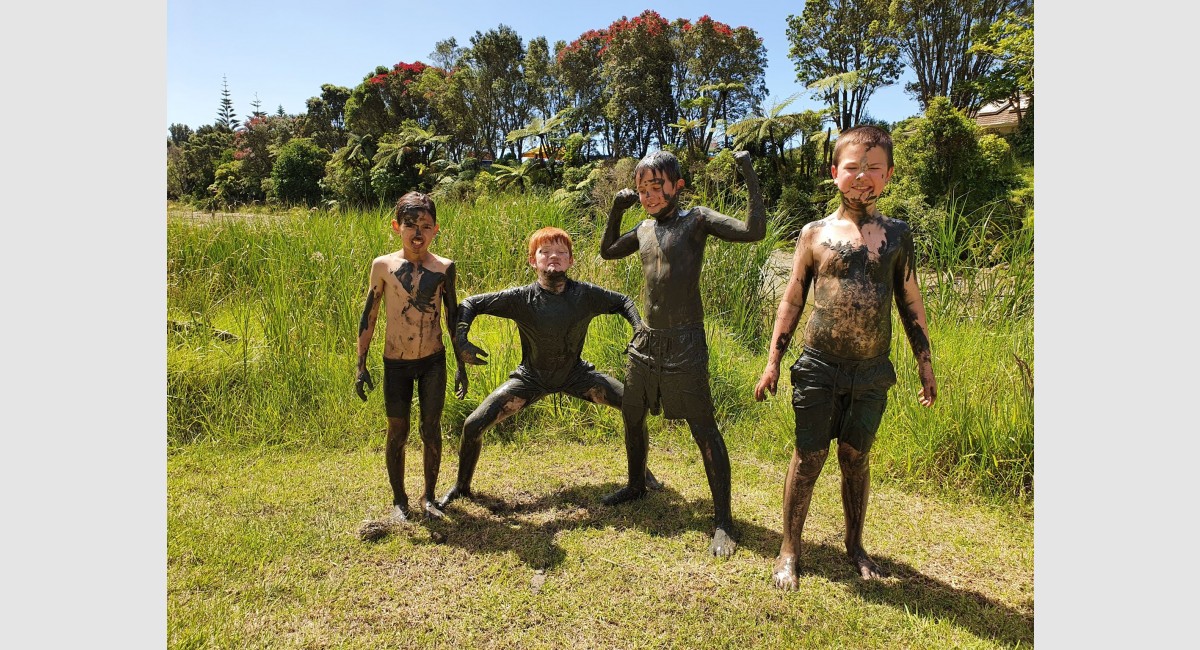 Energy is another word for power. Energy makes things move and work. It also makes living things grow. 10 year old boys have a lot of energy. They are almost constantly on the go and not many things are done quietly! We took Colt and his friends Neo, Cam, Matthew and Adam away this weekend to Urenui for Colt's early 10th birthday party. We were lucky to be able to stay at Iain's Bach Break http://iainsbachbreak.co.nz/ The bach is provided by the Herbert family to give a holiday to families with children that are living with adversity. The Herbert family tragically lost their 13 year old son Iain to cancer in 2006. We made the most of our 'holiday'; bridge jumping and wallowing in the mud at Onaero, exploring playgrounds, having water fights, checking the predator traps at Urenui for Ngati Mutunga (the boys came back with pockets full of lost golf balls from the course), feeding tuna (eels) and trying to catch a glimpse of Korora (little blue penguins) coming ashore after dusk. There was also plenty of eating and talking in between the activities. As Yoda would say "For my ally is the force …. and a powerful ally it is". The boys almost vibrate with the force. It is wonderful to see them getting so much out of life.
Rory also has the force but he expends much of his energy existing, and his battery drains quickly. It takes a lot of energy to function in a world which happens too quickly for him. His brain spends energy trying to understand the sound transmitted by his cochlear implants. He uses the force trying to co-ordinate muscle movements with an impaired nervous system which appears to be degenerating with each passing month. After sustained effort chemo fatigue comes on suddenly and doesn't always go away with rest. Rory has endured a total of 10 cycles of chemotherapy, with 5 toxic agents, over the last 10 years. His system can only recover to a point. He sleeps a solid 10 hours per night to cope with each day. Even though it is a challenge for Rory we work hard to ensure he has a rich and full life. We schedule activities for the morning when we know he has the most energy, give him rest and snack breaks and ensure he gets regular exercise to build up his strength and stamina. "Not how long, but how well you have lived is the main thing" (Seneca).
It has been another busy week. Rory spent a couple of hours at the Children's Ward on Monday morning. He had his port flushed and locked, and a blood test. He received his 12-weekly injection of testosterone. It was given half a dose in each thigh simultaneously by Nurse Jane and my cousin Nurse Specialist Jason. Rory is tough. Tanya from Deaf Aotearoa called in to start the Transition process for Rory during his final year of high school in 2021. We drew up some potential goals including volunteer work, activities to benefit his health and well-being and possibly a part-time job.
Rory and I attended the Canteen Taranaki Christmas event. His team won the Christmas quiz. It was great to see him hanging out with a bunch of teenagers who understand his struggle and include him. Most teenagers do not. One of the highlights of Rory's week was the day with Rob. They went beer tasting at Shining Peak Brewery. Rob helped Rory pick out a flash pair of dress shoes. Rory likes to look smart and he is usually in sneakers as he needs a large orthotic to stabilise his feet. On Thursday a reporter came to our home to interview Rory, and our family, about his journey and the importance of Ronald McDonald House in our lives. There will be articles in the Taranaki Daily News and Sunday Star Times next week. Helping Ronald McDonald House Charities with their Christmas fundraising campaign is one small thing we can do to say thank you for providing a home away from home for us for over 300 nights. On Friday Rory attended an interview at Conductive Education in New Plymouth. He and Natasha will be volunteering for them in 2021.
Colt attended the final session of Seasons for Growth, a peer support programme for children who have experienced significant change or loss. Seasons for Growth is based on the belief that change, loss and grief are a normal and valuable part of life. They tutors are pleased with his participation.
We celebrated Sean's birthday this week. He is one year short of mid-life yet he still beats the boys to the top of every hill and comes out the winner during wrestling matches.