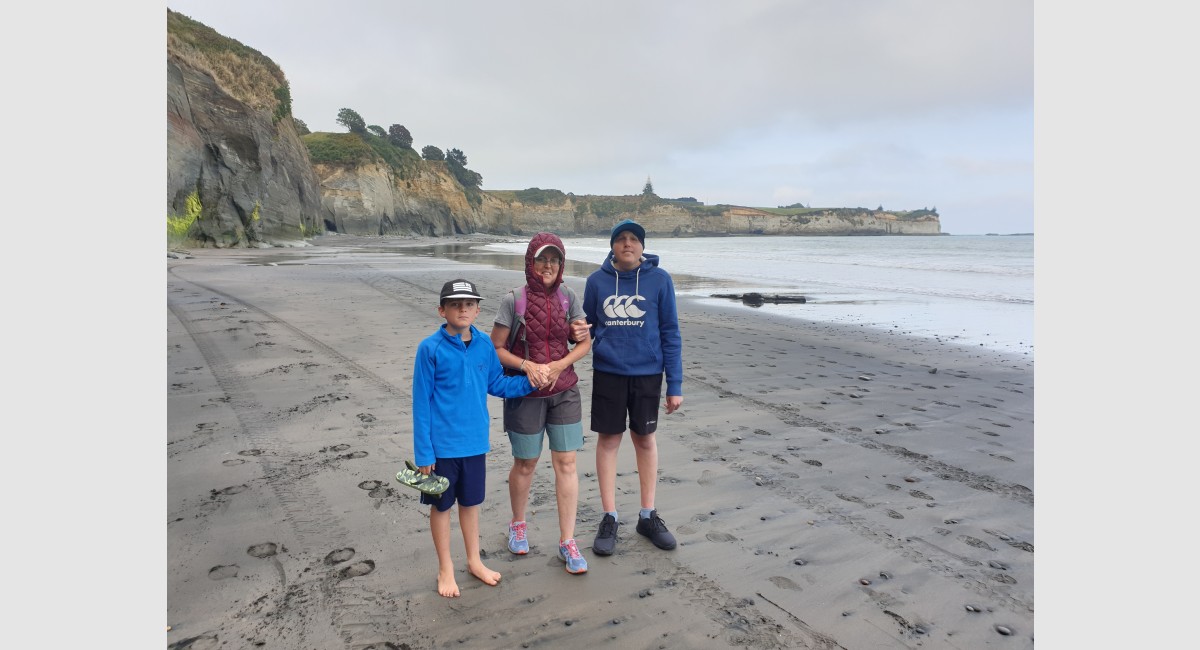 It was important we spent time in one of our happy places on New Years Day. When I woke on 1st January I felt only apprehension for the year ahead. Our lives are in turmoil, so much is unknown and there will be suffering. It was important to be in a place with a lot of great memories, where we have had adventures, and which is healing. We made the drive north to Parininihi Whitecliffs. Once we would have gone up and over, and up and over, through the forest to exit onto the beach at Te Horo stock tunnel. Now we are grateful Rory can walk a half hour return trip on the beach. It is obviously a happy place for other people; a tramping club group was ahead of us and people were gathering kaimoana. We collected shells to make a mobile for the hospital. We visited neighbouring Wai-iti beach and explored the caves at the northern end. There were Korora (little blue penguin) footprints in the sand from early in the morning. We had lunch at Waitara where Colt lost his wiggly tooth courtesy of Sean's Leatherman. We pushed Rory in the wheelchair along the Waitara river to Marine Park, enjoying the newly constructed Tuna (eel) themed boardwalk over the wetland. We caught up with Sam, Caitlyn and her family at Onaero campground where Colt did some bridge jumping with Sam and tried out the new paddle boards. It was a good day.
We have started to prepare for the journey back to Auckland on Sunday. Gear is piling up in our room and Rory has a final blood test tomorrow morning. I have updated the calendars and spoken with all the medical teams to (hopefully) lock things in place. Rory will have the PET-CT Monday, be admitted to Auckland Hospital Tuesday afternoon and have the operation on Wednesday. We have crossed off most of the things on our want to do list; visiting Lumen Gallery in Tataramaika, walking the Huatoki walkway, pushing Rory in the wheelchair up the barrier free track to Wilkes Pools on Taranaki mounga (only Sean could achieve this given the gradient), a dip in Wilkes Pools and a swim at Fitzroy beach.
Thank you to Uncle Guy and friend John Sigurdsson for volunteering for the Longest Day endurance golf challenge to raise money for the Cancer Society.
https://www.stuff.co.nz/taranaki-daily-news/news/118529009/longest-day-challenge-72-holes-of-golf-in-one-day