It takes a village to realise dreams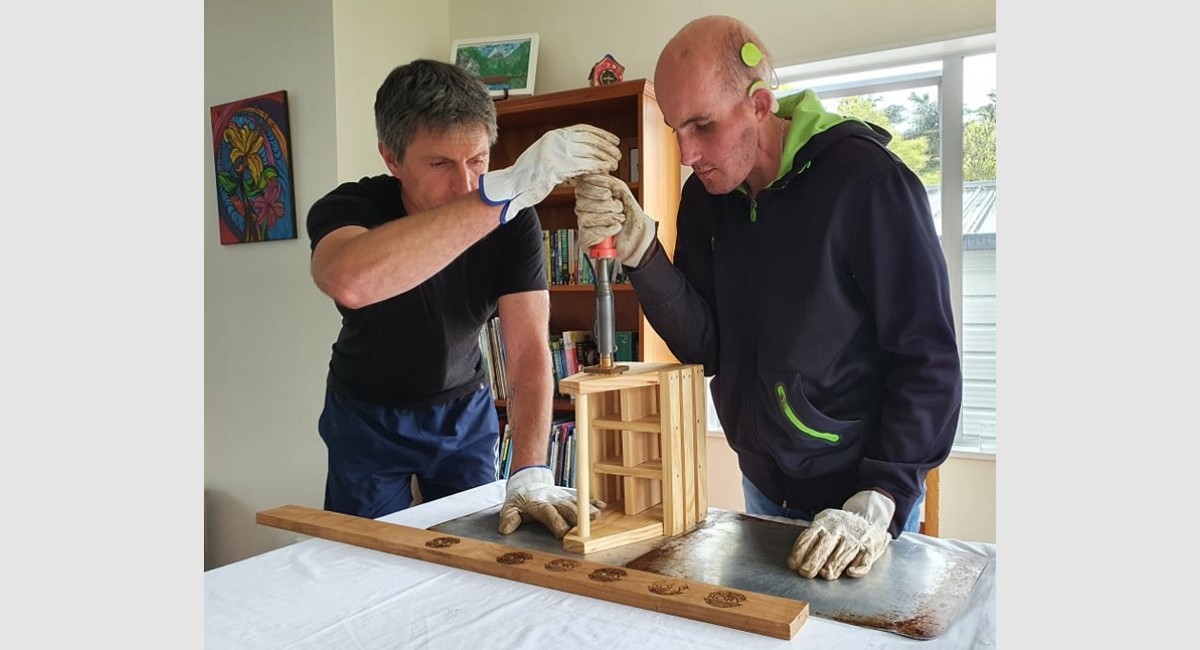 "It takes a village to raise a child" is a well-known African proverb. To experience, grow and reach their potential children need a support system which includes many people; extended family, friends, neighbours and experts in the community. The responsibility of raising a child is shared. Children with super powers (challenges) also need a village to realise their dreams. There are many obstacles in their path. I have talked before about how one of Rory's passions is wood work. His dream is to make quality wooden items to sell. Rory will struggle to find employment because of his disabilities so this is one way he can be part of the work force. Rory's wood creations take shape with the help of New Plymouth Men's Shed Co-ordinator Phil, Companion Peter, driver and tool man Poppa Honnor and Teacher Aide Mrs Hanrahan. With their support Rory has made a coffee table, coat hanger, beer carriers, a caddy for art supplies and mask hangers. Rory is proud of his creations and we are too. What was missing was some way to show the items were produced by him. Enter We Can Precision Engineering ( https://we-can.co.nz/ ). I found We Can while Googling branding irons and I emailed them with an enquiry. They read Rory's story and generously offered to gift an electric branding iron to add a professional and personal touch to his creations. TRC Graphic Designer Kat helped me develop a logo. This wonderful gift was created in secret and arrived via courier on Wednesday morning. When Rory opened the package he was blown away by what was inside. Its arrival was very timely. Rory has recently created a wooden gift for a special friend of his who has significant health issues herself. She painted a picture for Rory, while she was undergoing treatment, which hangs in our lounge. It touched our hearts so Rory wanted to reciprocate. This weekend he was able to use the brand for the first time to mark the gift which he will deliver next week. Thank you very much We Can Precision Engineering for being part of Rory's village.
The wheels have continued to turn this week. Big brother Sam endured a Covid19 swab because he had a cold. He rang me to complain I didn't warn him about how painful it was because his sinuses were inflamed. On Friday I had a Zoom call for Rory's ACC review. The outcome of the review hangs on the opinion of a medical expert in Australia as we haven't been able to obtain input in Aotearoa. We have agreed to wait two months for the opinion until mid-December at which point there will be a Hearing. Yesterday we were lucky to get out into the wild at Matapeka Falls with the Broughton family. The four boys had fun chasing wild goats and a pig, walking behind the waterfall, taking a dip in the river and seeing how far they could bury their boots in the deep mud holes. The two dads could have mistaken for teenagers as they joined in the action. Thank you Sam and Caitlyn for spending the day with Rory.
Happy Birthday Nana Honnor. We love you heaps xox