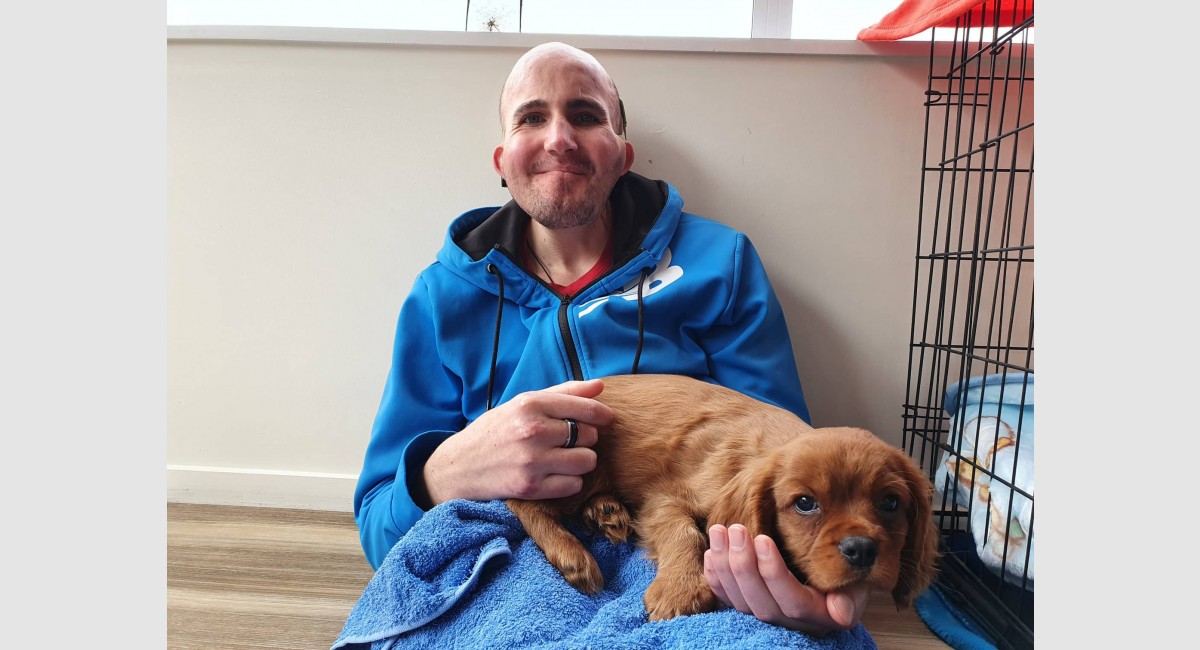 A little bit of treacle coloured light entered our lives this morning when we picked up a ruby/chestnut Cavalier King Charles Spaniel pup from Cavalove Kennels. Rory has named him Leo. Sam and Caitlyn came to experience Cavalove en mase. I wish I had a photo of the expression on their faces. Leo has spent the day having cuddles and sleeping. He is currently unsure and afraid of his new home. Sean has sectioned off part of the dining room for Leo during his puppy phase. We will take it slow and give him time to settle in and bond with us.
This week Rory has a dental appointment. They sealed a couple of his back teeth on the right as he can't reach them to clean properly since jaw was rebuilt. Rory's caregiver Deanne has Covid19 so Sean was on duty Thursday afternoon and Friday. On Friday they took apart five DVD players and one computer at the Junction. On Friday night Rory stayed a night with Sam and Caitlyn then spent Saturday with Support Carer Jo so Sean, Colt and I could tramp across the Pouakai range.
I am feeling out of sorts. For the last 22 years I have been the only female human in our house. Most of the time I love the boys company and thrive on being a mother of three sons. However, periodically I feel overwhelmed. I can't cope with the noise, continuous bickering, filthy humour and constant badgering. It is a sign I need to clear space to breathe, regroup and recharge which is a hard thing to do, especially now I work full time. I've never been very good at taking care of myself first even though I know it is something important I need to do.