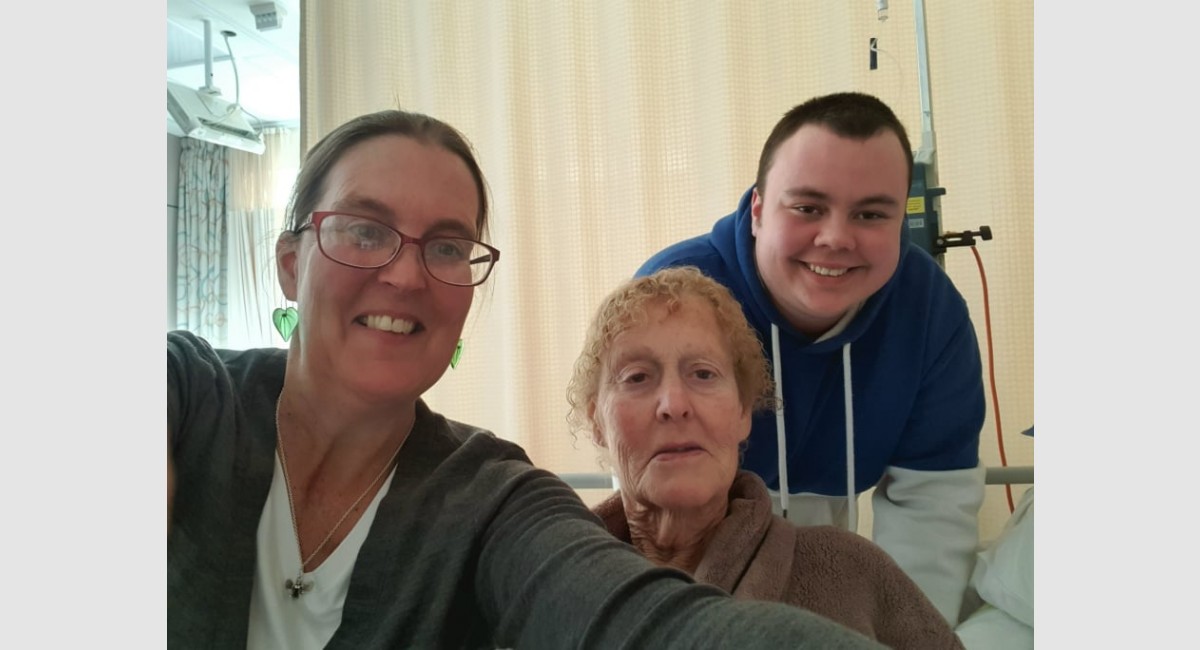 Mother - the hero who loves you even when you're not exactly loveable - absolutely never wrong about anything, ever - one person who does the work of 20, for free.
When you become a parent you finally appreciate and understand what your mother has given. Mothers provide us with unconditional love. They keep us safe and set boundaries. They prioritise our needs before their own and raise us to believe we can reach for the stars. I love my mum and she is suffering. It is heart breaking to see and I feel frustrated there is little I can do to make it better. Mum is in her mid-70s. Her health has deteriorated over the last year or so, but it has accelerated over the three months we have been home. She is frail, has kyphosis (forward curvature of the spine) and cellulitis (swelling and infection in her legs). She is in a lot of pain. An MRI scan showed one of her hips has disintegrated due to osteonecrosis (a lack of blood supply). She is awaiting a hip replacement but this cannot be done until she is well enough. She was admitted to Taranaki Base Hospital on Friday night and I have been to visit her the last two afternoons. All I can do is keep her company and help her with personal care while she receives medical treatment and waits. In some ways it is harder to support mum than it is to support Rory. I have no authority and I am not there all the time to ensure she receives the best care in a timely manner. I am also pulled away by the needs of Rory and my family. I am taking a lot of deep breaths.
Rory got two days off school this week as some students in Te Awhinatia had a tummy bug. Fortunately Rob and Natasha were flexible with their hours and able to help cover the time. Rory enjoys 'hangin out' with Rob and the weather was fine enough for Rory to ride Lilly at RDA. It was a team effort to sell all our gingerbread horses and we managed to raise $112 for RDA. Rory and Natasha visited Atawhai Nursery on Wednesday morning to see if he would be interested in volunteering there in future. We have had a visit from Linda (CCF Family Support Co-ordinator) and Rory kept her entertained with stories and the magazines from Camp Quality.
Rory visited the Orthopaedic Surgeon on Monday afternoon who said he can start gentle exercises for his legs. He has requested an MRI of Rory's left knee as there is still some pain, and a lace up boot for his left ankle to provide structural support. I spoke to Taranaki Radiology (the private provider for ACC) and they said they cannot scan Rory because of his cochlear implants. The room where their MRI machine is located is magnetised so Rory cannot enter. Rory continues to work out four times a week with Dane who devises new and interesting exercises which provide physical and cognitive therapy, challenge Rory and are fun. I am now getting hassled on a regular basis for not working out as well. Sean and Rory attended the last Parafed Jiu jitsu session and Rory came home complaining Sean had crushed his nuts! Rory had his three-monthly testosterone replacement injection to increase his blood concentration to normal levels.
We had a medical emergency with Rory on Thursday night. He choked on a couple of bites of burger at the dinner table. He had tried to swallow too much food, and pieces which were too large, and it lodged in his throat. He went silent, turned red and grabbed at this neck. He couldn't breathe. Sean whacked him on the back hard and Rory was trying to cough up the food. It took quite a while before bun shot out but he still couldn't breathe. I could hear a faint whistling as he tried to force air into his lungs. Sean whacked him harder and harder and two pieces of patty shot out. Rory started to gasp for air then cry as his back and throat were sore. The incident lasted several minutes and was distressing for the three of us. They are scary. This is the fifth choking incident and we are now insisting everything he eats is cut up small. Rory hasn't survived cancer twice only to choke to death.
Rory had a Zoom call with Holly from Ronald McDonald House on Friday afternoon. He is helping them with their Christmas fundraising campaign. Holly asked Rory some questions and there will be further work to do over the coming couple of months.
Colt went on senior camp at Vertical Horizons with Inglewood Primary School for three days this week. I attended for a day. It was quieter at home. Colt had a good time and was the fastest up and across the Multi-vine high ropes course. He told me he got a camp award for good manners.
Sean and I attended the farewell at Taranaki Regional Council for Director of Operations Stephen Hall. Stephen is the big boss in charge of our team. When Rory was diagnosed with cancer for the second time Stephen promised us TRC would take care of Sean and I for as long as it took, and they have. It means a lot. Sean, Colt and I were lucky to spend the morning on Taranaki mounga today, covering the Holly Hut-Tahurangi Lodge loop track. It was wonderful being up high in the wild on a brilliant fine morning, playing in the snow and stretching our legs.