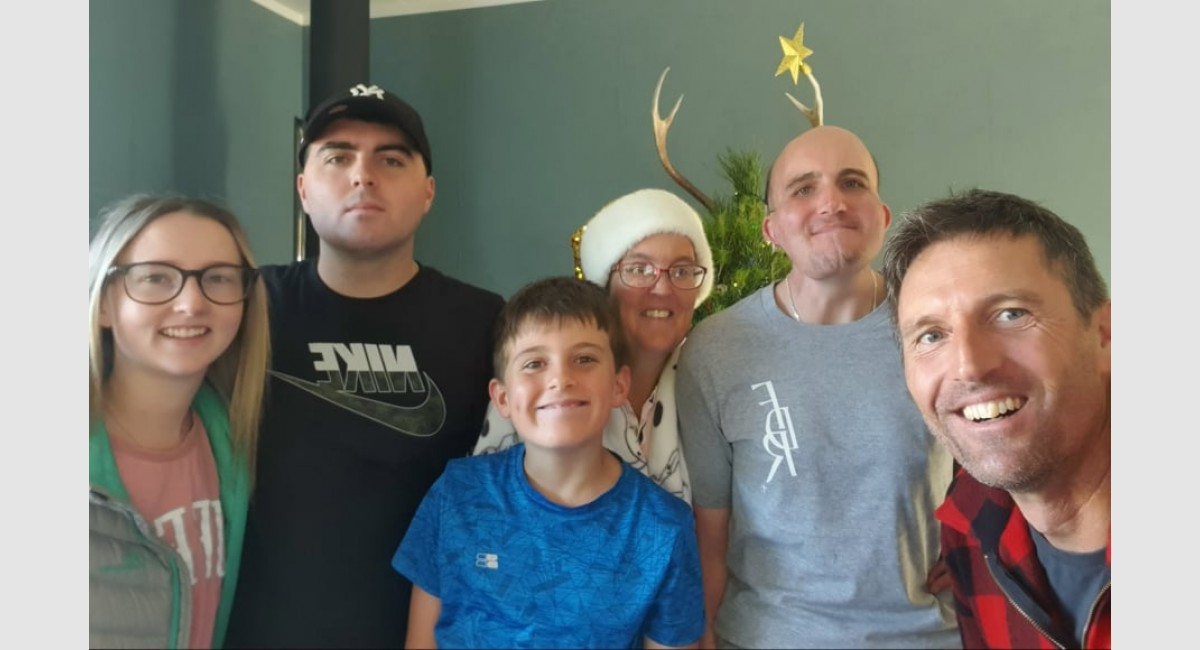 Merry Christmas from our whanau to yours. As I look around I know we have much to be grateful for. Our family is still intact and able to be together. We are home. There is good food on the table, largely thanks to the effort of our women in the kitchen (plus Sean and Arron). There were nice presents under the tree and it was a sunny day under Taranaki maunga so we could play games outside. I will take this day and store it away. I will chalk it up as a win. We need as many wins as we can get. Rory's eyes were 'funny' during morning tea at Nana and Poppa Honnor's. After lunch at my cousin Arron's Rory was slurring his speech and suddenly very sleepy. He had to have a nap on the couch and extra hydrocortisone tablets. Lurking in the background is the ever-present threat to his life from cancer and its treatment. We ride over the small bumps and continue with the journey valuing and appreciating days like today.
We woke up this morning to find Santa had let our grey mini-lop rabbit out of its enclosure so it was hopping around under the dining table. Someone, in a moment of madness, agreed to let Colt have his own pet for his birthday/Christmas. Two mini-lop rabbits, black and white Cosmo and grey and brown Fudge arrived earlier this week via Grannie and Grandad Gardiner courier from Whangarei. The 10 week old bunnies have settled in and enjoy regular pats, the weedy greens we pick on our walks and the box tunnels made by Colt. Even Rory who swears one of the rabbits is not his asks if we could pick them up for him for a cuddle.
Sean took the boys to Fitzroy beach for a swim last Sunday afternoon and Rory spent an hour in the water swimming and body surfing. He loved it but was fatigued for a couple of days afterwards. On Tuesday Rory had a great day with Rob. One of their stops was at Ms White Pizza and Beer Garden, their regular haunt. Jack, who manages Ms White's, had shared Rory's story with the suppliers of their craft beer and put out a call to them. Several breweries sent samples for Rory (and Rob) to try on their Tuesdays with lunch. We would like to say a big thank you to Jack and Ms White's and the following breweries; Peckham's Cidery and Orchard Nelson, McLeod's Brewery Waipu, Kereru Brewing Company Upper Hutt, Sawmill Brewery Matakana and Bach Brewing Auckland. Rory is looking forward to trying them all.
Rory's story was in the Sunday Star Times and Taranaki Daily News this week to raise awareness and funding for Ronald McDonald House. www.stuff.co.nz/national/123692748/taranaki-family-spent-more-than-300-nights-at-ronald-mcdonald-house-during-their-teens-10year-cancer-battle
Rory completed the last of his gym workouts before Christmas with Dane who gave him a Next Level Fitness Tee to wear. On Wednesday morning Natasha gave Rory a voucher and helped Rory pick out a pair of shorts to wear on Christmas day.
Thank you to our neighbours Wendy and Neville for the delicious Christmas ham.