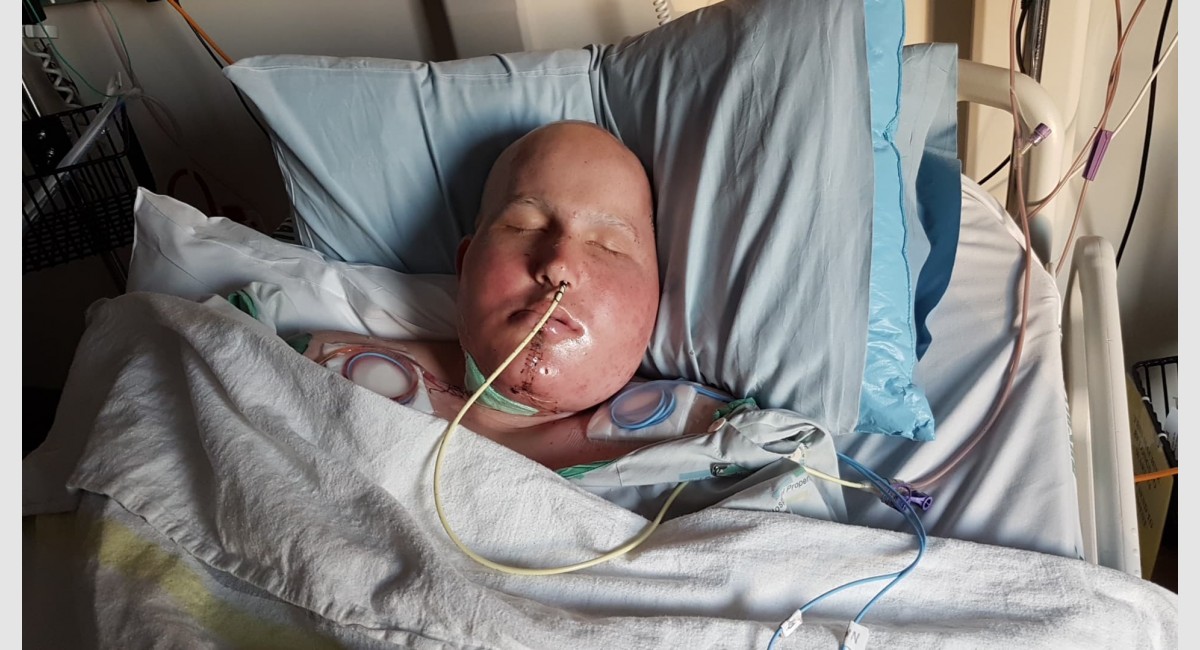 Rory is hanging in there. It is tough going for anyone. He carries on the way he always has, quietly waiting, existing until things get better. There have been very few tears. He has amazing courage.
The operation, which closely followed two cycles of chemo, has exhausted Rory's system. Coupled with the after-effects of the anaesthetic and regular morphine Rory sleeps a lot of the time. When he is awake the nurses provide care; turn him, wash him, give him medication and monitor him.
On Saturday afternoon Rory was transferred back to room 10 in Ward 74, Auckland Hospital. The DCCM nurses removed the humidified oxygen, the femoral line in his groin, the old IV line (a new one was placed in a different location) and one of the drains in his leg. This amounted to about half of what was implanted during surgery.
Rory is very swollen in the face, neck, limbs and hands. He isn't moving around much in bed. His speech has been significantly affected. He can open has mouth a little and is trying to speak but his words are hoarse, throaty and very hard to decipher. Not being able to communicate is frustrating and distressing for Rory and us. His hands and arms are so swollen he struggles even to give a thumbs up or down. He cannot hold a felt to write on a whiteboard. Rory has pain in his left leg (donor site), from the catheter (which will hopefully come out tomorrow) and in his nose (the NG tube was stitched in). Remarkably he doesn't have a lot of pain in his face. We are very careful where and how we touch him.
Sean and I take turns waiting beside Rory. We read to him and hold his hand. He often watches the helium balloon tied to the end of his bed. We wash his mouth with solution and little sponges and put cream on his lips as he remains nil by mouth. The Dietician visited. Rory is now on full daily feeds via the NG tube but will not receive anything between 10am-2pm to give his system a break. He gets some fluid with his medication as he is not even allowed to drink. The wounds in his mouth need to heal and this will take longer than an average person due to the radiation he received to the area 10 years ago. Rory is still receiving steroids for the swelling, antibiotics, regular pain relief and anti-nausea medication.
The Doctors are pleased with his progress. It is small steps. The Doctors have told us it will take months for some things to recover. Some may not recover. Sean and I never talk about potential complications. Dr Ilia told us the list is very long and he didn't elaborate. We move forward on eggshells, so very afraid of what could be off to the side of the path we are on. We look forward and focus on moving into the light.