Swish swish swish of Harakeke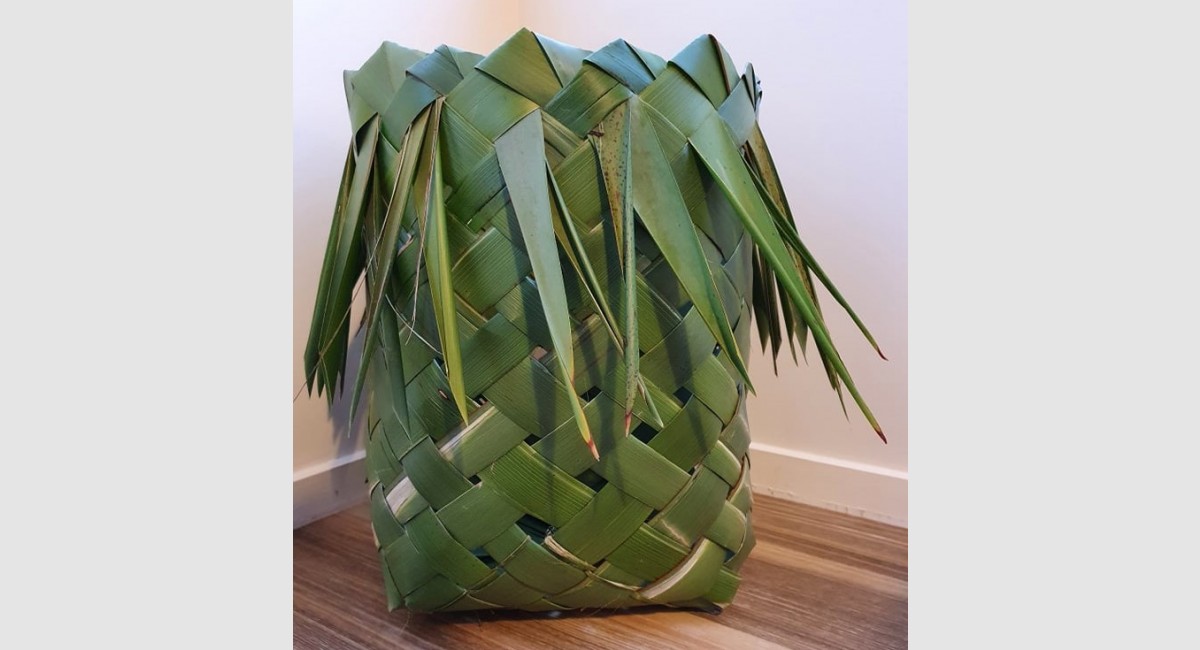 Harakeke or Flax is indigenous to Aotearoa, and is one of our most ancient plant species. Flax provides shelter and food for a large community of native animals. Tui, Korimako (Bellbird), geckos and several species of insects enjoy the nectar of Harakeke flowers. Harakeke was an important fibre plant to Māori. Each pā or marae typically had a 'pā harakeke', or flax plantation. Different varieties were specially grown for their strength, softness, colour and fibre content. Harakeke was used for clothing, mats, baskets and ropes, to sweeten food and for medicinal purposes.
Harakeke is uniquely Aotearoa and a special plant. I was reminded of this on Saturday morning as I sat on the floor of Eltham town hall with 25 other women and weaved a waikawa (large sturdy basket). Mid-morning I looked up from my work conscious only of the swish swish of Harakeke leaves as the other women wove their creations almost hypnotically. It was a wonderful way to spend a gloomy morning and the waikawa produced were all different and beautiful. Harakeke was not just useful to Maori. Stories were told and beliefs affirmed through the patterns which were woven. The plant itself is considered a family. The central shoot or rito is the baby and the leaves on either side of it the awhi rito (its parents). Only the leaves on the outside, the tupuna or grandparents are cut to avoid weakening the plant.
Aside from the zen morning of weaving it has been a very stressful week. Not stressful as in life threatening stressful, but stressful in terms of 'normal' life. We have had our floor coverings replaced. They were stained (several Rory's blood), discoloured, threadbare and lifting. The level of effort required to replace them was almost equal to moving house. We have put down extra vinyl plank and less carpet to aid Rory's mobility and to keep the inside clean. On day two Sam removed the toilet in advance of laying the covering and then Sean broke it. Sam had to source new parts and put the loo in for us on Friday night. By day four the house was a shambles. Sean and I had worked all day and Rory was tired from two days of activities. Colt had a tantrum over screen time, the water in our half of Inglewood went off, and I lost my temper from the pressure. It was akin to detonating a small atomic bomb. I was very glad Friday was a new day and what we were dealing with wasn't anything we couldn't handle.
Rory had his first visit with Dr Sharma, the adult endocrinologist from the hospital. She went over his history, gave us a prescription for his medication, a blood test form for monitoring and we discussed the need for a point of contact and advocate within the hospital system. We also discussed the possibility of Rory taking maintenance growth hormone to improve his quality of life. Rory will need a bone density scan before he is 21. Taking steroids on a regular basis can reduce bone density and increase the risk of fractures. Rory has been on them for over 10 years. We will see Dr Sharma again in two months. Rory had his 3-monthly testosterone injection plus two blood tests this week. His lymphocytes are >1.0 so we can proceed with the re-immunisations.
Rory had a fuzz cut, his equivalent of a haircut. The sparse dark hairs on his head get long and curly so he resembles a chick in a nest. He wanted to be tidy for ball room dancing practice after dinner on Sunday night. Ball room dancing is incredibly difficult for Rory. He has to balance while standing and complete the right steps (let alone in time with the music). This requires trying to control his wayward legs and he has to concentrate hard which burns energy. The dances involve lots of turning/spinning which makes his eyes play up and his vision blurry. Thankfully he has a partner to hang on to for the majority of the time. The situation is noisy and there are lots of people very active in a small space. In spite of all the challenges he was determined to practice and do well.
Thank you Sam for the after-hours plumbing work and Taylor for the after-hours electrical work. Just as well you both are tradies and not useless university students xox