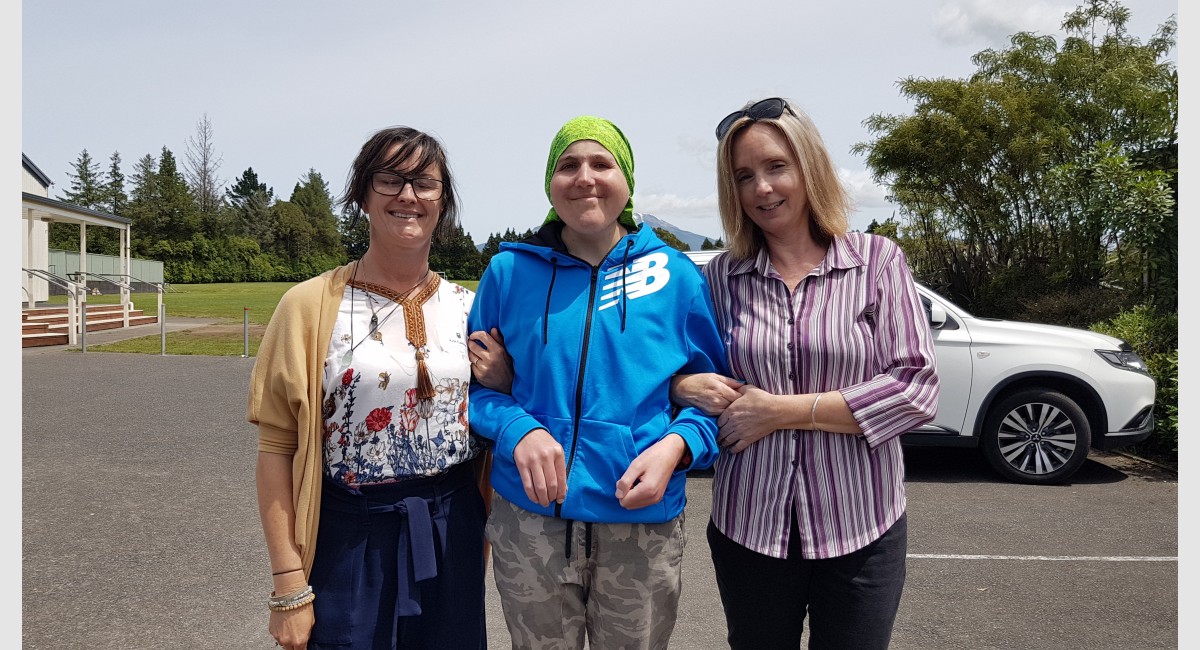 Rory walked into Inglewood High School at the start of 2019 so we made sure he walked in the gate today on the final day of school for the year. Today's blog is dedicated to the staff at Te Awhinatia, the remarkable learning centre at Inglewood High School. To Mr Cripps, Miss Mena, Mrs Hanrahan, Mrs T, Mrs Richards, all the other staff and Resource Teacher for the Deaf Kyla thank you for making Te Awhinatia one of Rory's happy places. As a junior Rory was determined he belonged in mainstream class but as he has grown he has gravitated more and more to Te Awhinatia. We let Rory take the lead. Mr Cripps, Kyla and the team have helped provide a programme of learning for Rory's individual needs rather than try and fit him in a box. The team have provided the support he needed to be present and achieve success. He has been able to complete Year 12 alongside his peers at Inglewood High. I know he will miss everyone over the holidays, and looks forward to returning in the New Year. Kyla is on the left in the photo (got her with her eyes shut!) and Miss Mena is on the right.
We are nervously waiting for the blood test tomorrow morning to see if Rory's platelets are increasing. Rory and I are scheduled to return to Auckland on Tuesday. We are encouraging him to walk more to build up his strength. Rory and I visited Inglewood High School yesterday to hear a presentation by Year 9 science students on their research on Long-tailed bats at Experience Purangi and today for the Christmas function/break up at Te Awhinatia. I wanted to get up and give a speech of thanks after lunch but I was barely holding back the tears so sat quietly with Rory.
I am humbled, overwhelmed and so appreciative of the generous things people do every day to support Rory and our family. This morning we were visited by Don from the Inglewood Branch of the Red Cross. When I heard our dog Fern in defence-mode I thought there was a burglar in our section! Don came in for a cup of coffee. He told us the Inglewood branch had heard about Rory's need for treatment and they wanted to assist us with the costs on our journey. It is hard to find the right words to respond to such a gift. Thank you feels like such a small response. Thank you also to the Tong family for the delicious meals and the ongoing generosity of staff at Inglewood High.