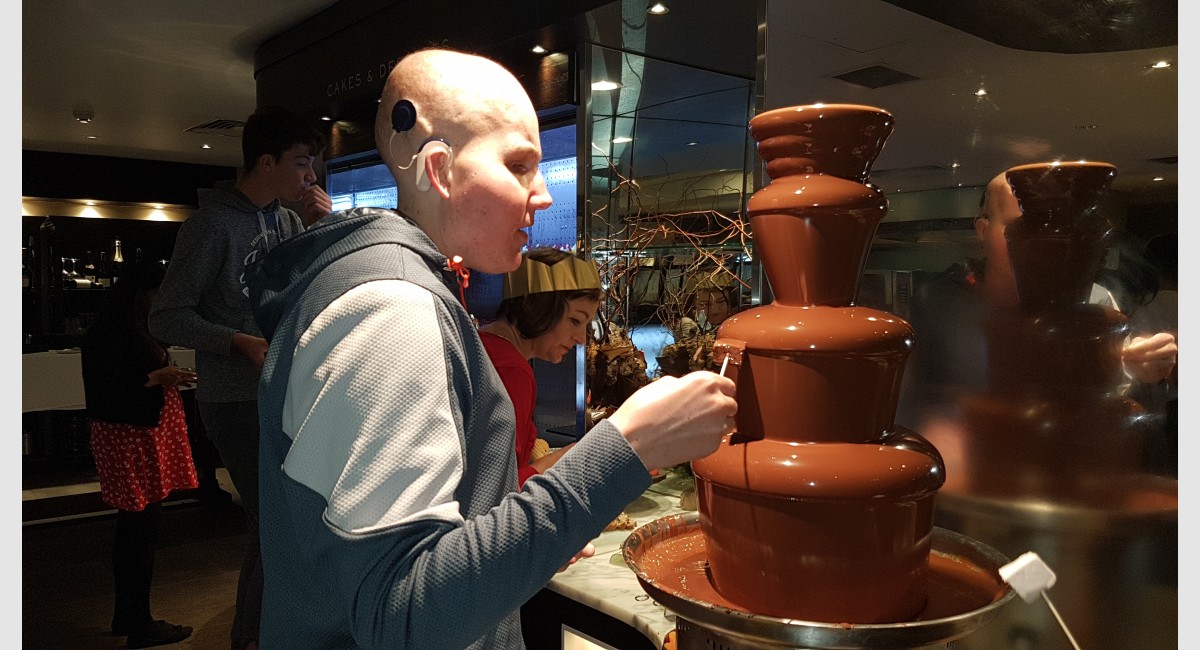 Tick tick tick pass the minutes on the clock. Tick tick tick goes the IV pump as we pass the time on Ward 27b. After a while time becomes irrelevant and you no longer hear the pump. Rory is back on 27B. We are in Room 5 with a view of the sky, which is much nicer. Rory was admitted at 7pm last night. The fluids and the peeing have begun anew. There was a delay in the arrival of the chemotherapy agents on the ward this morning, in spite of my efforts to ensure this didn't happen. Rory started the Doxorubicin at lunch time and is receiving the Cisplatin this afternoon. He is passing the time watching tv and I have done a little work on the computer. The ward is full. This morning there were eight cancer kids being treated on other wards due to the lack of room.
Rory and I enjoyed a treat at lunchtime yesterday with other families from RM House. Cordis Hotel in Auckland invite RM families to their Eight restaurant for lunch at Christmas, and there is a present from Santa. The restaurant contains eight interactive kitchens and you can choose as many delicious dishes as you like. I did think about Sean when I saw the seafood and Colt when I saw the desserts. I couldn't resist taking a cheeky photo of Rory trying the chocolate fountain.
Thank you to the Pooles for the wonderful Chrisco hampers which were delivered to our house and to our workmates at TRC (Halema, Ian, Wayne, Kelsi, Sam and Mike) who filled our little shed with firewood while we were away.