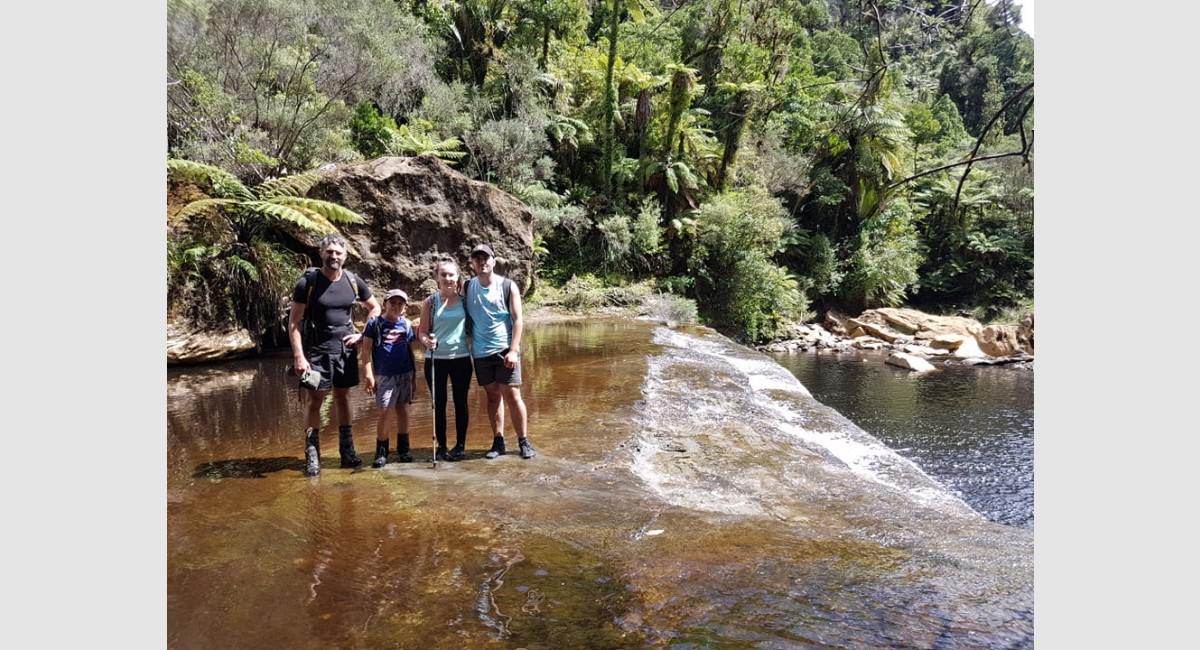 An early blood test this morning showed Rory's platelets are at 65 so things are all go for our return to Auckland tomorrow. The platelets had to be 50, and they had to be Rory's own, for the Methotrexate to be given on Thursday. Rory and I are flying up so I am packing. Sean and Colt will follow in the car on Saturday. Sam and Caitlyn will again be holding down the fort at home. There isn't a lot of enthusiasm for returning to Auckland or re-splitting our family but we know it has to be done until we reach that line in the sand for Rory.
Grannie Gardiner spent a day with Rory in the weekend so Sean, Colt and I could go for our first tramp in months. We coerced Sam and Caitlyn to come with us. It was Caitlyn's initiation into our going walk about. It was just two of us when Sean and I got together, then a conglomeration of me with a bun in the oven, babies in front packs, toddlers in back packs, children and teenagers. We have covered many kilometres and been to some incredible places. It was great to be back in the wild. Our forests, scrub, river systems and dunelands have their own smell and make their own sounds. They also have their own mix of colour and light. It was good to be immersed in that away from the modern world. We stopped for lunch at Matapeka Falls. I sat on a rock and watched everyone walk behind the Falls, hearing them yahoo from the force of the cold spray. There was a lump in my throat and I was filled with a deep sadness, then I was crying. The rest of my family were with me in the wild but not Rory. Cancer has robbed Rory of so much and in some ways it has robbed us of him. Rory will have to be left behind on many of our adventures as his disabilities make it impossible for him to accompany us. It is not fair. In addition to the sadness I feel anger and frustration as there is no one to blame, and little I can do to change things. Sometimes it is very hard to accept.
Thank you to Grannie Gardiner for the help this weekend and to Uncle Matt and Auntie Vanessa for having Colt stay over. He loved shifting the cows, collecting the hens eggs and extracting honey from the beehives. He is giving us the hard sell about getting a hive at home!